Our products
Browse catalog of our products
ETX-2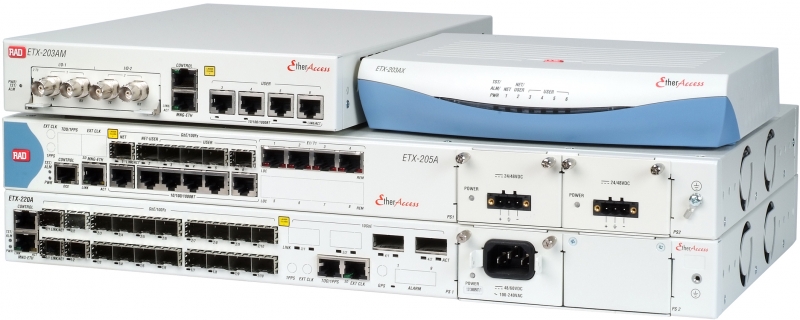 Provide Ethernet connectivity services for business applications
---
The ETX-2 Carrier Ethernet demarcation device, together with the ETX-5 Carrier Ethernet aggregation platform, are the main components of RAD's Service Assured Access solution, providing:
Ethernet service uniformity over multiple access technologies including GbE and 10GbE, SHDSL, PDH, and SDH
Operation in diverse topologies including ring, daisy chain, and hub and spoke
PW functionality for mobile backhauling and business services
Synchronization for mobile 2G, 3G, LTE, and LTE-A backhauling networks.
ETX-2 is offered in a variety of product options (ETX203AM, ETX203AX, ETX205A, and ETX220A).
MANAGEMENT AND SECURITY
The device can be managed via RADview, RAD's carrier-class NMS, or any SNMP-based management system. ETX-2 supports a variety of access protocols, including CLI over Telnet, SNMPv3, and TFTP.
Security features include SNMPv3, RADIUS (client authentication), TACACS+ (client authentication, authorization, and accounting), SSH, and SFTP. Access Control Lists (ACL) can also be used to flexibly filter and mark management traffic, enabling service providers to maintain network security by dropping unwanted packets.
---
Other products