Our products
Browse catalog of our products
ETX-5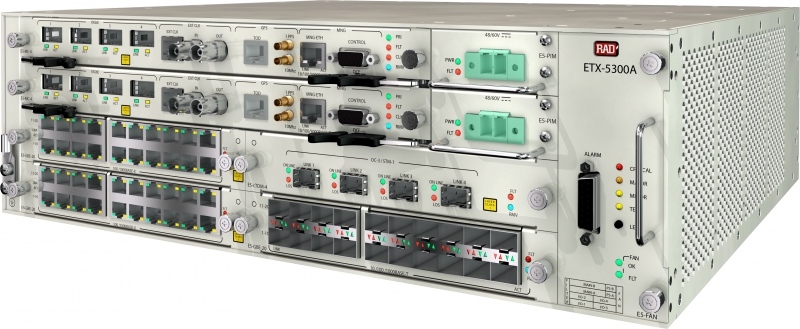 Provide Ethernet connectivity services for business applications
---
ETX-5 features non-blocking architecture, allowing wire-speed forwarding of all packet sizes. It is designed for high availability and "Always-On" service.
Operating over various topologies (linear, daisy chain, and self-healing G.8032v2 rings), ETX-5 builds a complete color-aware access network.
ETX-5 provides CE2.0-certified Ethernet services including:
E-Line (EPL and EVPL) for LAN-to-LAN, VoIP and IP-VPN connectivity, as well as for storage and dedicated Internet access
E-LAN (EP-LAN and EVP-LAN) for multipoint Layer-2 VPN, transparent LAN services and multicast networks
E-Tree (EP-Tree and EVP-Tree) for combining multiple Ethernet technologies across different domains
E-Access for reaching the service provider's out-of-franchise subscriber locations as part of the end-to-end service
2G, 3GPP, LTE and LTE-A transport. 
Highlights
Feature-rich CE2.0-certified aggregation platform, the cornerstone of RAD's Service Assured Access (SAA) solution
Ideal for carriers, wholesalers and mobile operators, building fully redundant networks with diverse topologies for delivery and monitoring of MEF-certified Ethernet and TDM-over-packet services
Unmatched level of resiliency with self-healing Ethernet rings and LAG, enhanced traffic management capabilities for fully color-aware networks
Hardware-based OAM and diagnostics for scalable and accurate traffic monitoring, quick fault detection and user-friendly troubleshooting
Easy service provisioning, using the Service Manager application and Performance Monitoring portal
CAPACITY
Switching
200 GB half duplex
MTU
Up to 12 kB
Classification
According to outer or outer+inner VLAN, P-bit, IP Precedence, DSCP, Ethertype, IP/MAC source/destination address
VLAN Editing
Inner/outer VLAN editing per VLAN and P-bit
---
Other products